Sub events - gain more
A number of events are taking place in conjunction with the FIG Working Week. Extend your stay in Amsterdam and discover how others are doing things, meet people who share your passion and share your own knowledge and experiences.
Saturday 9 May 2020
SLAS EVENT - FIT FOR PURPOSE - Scaling Up – Fit For Purpose Land Administration
| | |
| --- | --- |
| The topic of "Fit-for-Purpose Land Administration" has been on the FIG agenda since 2014. The aim of raising the topic at that time was that our professional community would become more aware of providing appropriate and fit-for-purpose services to society rather than "focusing on top-end technical solutions" only. However, there was skepticism about the publication from within the profession ever since it has been published.The pre-event aims to fully explore the pros and cons of Fit-for-Purpose Land Administration, based on experience gathered through practical implementations. For more information, please visit http://fig.net/fig2020/slas.htm | FIG Publication: Fit for Purpose Land Administration |
| | |
| --- | --- |
| Building Information Modeling (BIM) is changing the way surveyors work, think, collaborate and earn money. Using and sharing multidimensional digital representations of buildings are the driving forces for the digitalization of our work. This affects many tasks surveyors and GIS professionals perform, e.g. cost estimation, GIS analysis, engineering surveying, construction work, land management and facilities management. For more information, please visit http://fig.net/fig2020/bim.htm | |
| | |
| --- | --- |
| The effects of plastic pollution on the Earth's oceans are well documented, potentially catastrophic and increasing exponentially year on year. The UN Environment Programme has calculated that each year more than 8 million tonnes of plastic ends up in the oceans, wreaking havoc on marine wildlife, fisheries and tourism. Eighty per cent of all litter in our oceans is made of plastic. This is an intolerable but not insurmountable problem that needs immediate and far-reaching action to remedy. | |
The goal of the event is to investigate the extent of existing information on plastic pollution of waterways in the Netherlands/Europe through formal survey datasets held by governments and academia. To develop techniques for collecting this information formally as part of future contract specifications for marine/river surveys or through dedicated plastic surveys and informally through citizen science/crowd sourcing techniques and how to apply these formal and informal techniques to 'hot spots' locally, within the EU and throughout the world, particularly third world countries with a lack of first world infrastructure. For more information, please visit http://fig.net/fig2020/plastic.htm
| | |
| --- | --- |
| How to build and manage a densely populated coastal country with a land area of which nearly half is below sea level? The Dutch know how to do just that, and have done so for centuries. The role of surveyors in this endeavor has been crucial. And their role is even more crucial today when we have to protect our country against the impact of climate change, causing sea level rise. | |
Being Young Surveyors we have to contribute to this. Reclaim the future by mapping the new world! Focus will be on sensing technologies and new spatial data processing technologies based on the ever developing and integrating fields of geodesy and geo-information. We will address worldwide issues related to integrated land and water management to address the impacts of climate change and urban growth. For more information, please visit http://fig.net/fig2020/youngsurveyors.htm
| | |
| --- | --- |
| Bring your parcel data and leave this workshop with your data in the most modern parcel management system available today. In just a few hours this practical, hands-on workshop will step you trought the process for migrating your data into the LADM (Land Administration Domain Model ISO 19152) compliant, scalable, proven technology for managing cadastral data. For more information, please visit http://fig.net/fig2020/parcel.htm | |
| | |
| --- | --- |
| Crazy about history? Don't miss this event, where the FIG Permanent Institution of History of Surveying will highlight the achievements of surveyors, the evolution of knowledge and methodology of measuring, as well as the development of surveying instrumentation. Focus will be on the history of Dutch Mapping, the Dutch discoveries across the water and the Dutch mapping of South Africa back then and now. For more information, please visit www.fig.net/fig2020/history.htm | |
| | |
| --- | --- |
| The Dutch have an excellent reputation when it comes to water management and successful living with water. Some even say that contemporary spatial planning and development originates from attempts to keep the water out in order to optimise land use. There is so much to see and so little time... Therefore, we combine the best the Dutch have to offer in a one day event! | |
You will embark on an exclusive journey using various modes of transportation starting at the historical Fort Vechten and finishing in the vibrant port city of Rotterdam. During the journey, you will be able to experience the Dutch urbanised delta and its historical and contemporary assignments in spatial planning including the process of land readjustment. The programme combines visits to historical structures with contemporary technology (e.g. GIS and sensor technology for monitoring water levels) and high style architecture. It is a unique opportunity where professionals and scientists will be sharing inside stories of their role in land and water management. For more information, please visit http://fig.net/fig2020/landwatertour.htm
Don't miss out...
Deadline for early bird registration is 7 February 2020 (CET).
NB – separate application forms for the SLAS and Parcel Management Solutions events.
About the FIG Working Week
The annual FIG Working Week is the premier conference in the community of surveying and spatial professionals combining the disciplines of land surveying, engineering, positioning and measurement, hydrography, remote sensing and photogrammetry, spatial information, cartography, construction and real estate and much more.
Surveyors have played a crucial role in land and water management. Their role is even more crucial today when we have to protect our countries from the effects of sea- level rise, floods and droughts and other natural disasters caused by climate change. Protection of nature and natural resources demands our attention and asks us to act now. This requires smart surveyors and integrated approaches for sustainable land and water management.
The theme Smart surveyors for land and water management is relevant for the Netherlands and internationally in a world where drinking water is a scarce resource, waste water needs to be recycled rather than seen as waste, where the sea needs to be better mapped and managed, where land resources need to be protected against sea-level rise, and where land-based fresh water habitats are threatened.
The FIG Working Week is sure to be the go-to place to get inspired by the industry's best and brightest, gain valuable knowledge, network with fellow peers and – of course – have tons of fun.
The 81st FIG Working Week will take place from 10 - 14 May in Amsterdam, the Netherland. For more information, please visit http://www.fig.net/fig2020
Thank you to our sponsors and supporters, we really do appreciate you being part of the FIG Working Week 2020!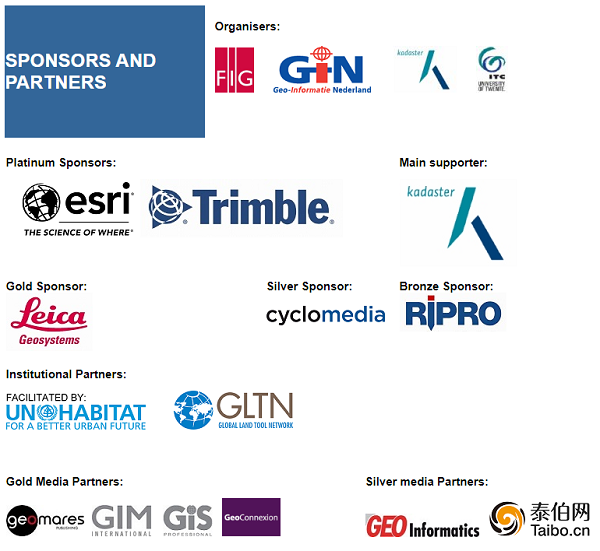 We would appreciate if you would spread the word about this special event to your friends and colleagues!
We look forward to seeing you and your colleague in Amsterdam in May